North West Enterprise Briefs: Genedrive; Camlee Group; United Utilities; Edge Hill College; Cheshire Faculty S&W; AMBS
Genedrive, the Manchester-based molecular testing company, has signed a distribution agreement with Beckman Coulter Life Sciences for its COVID-19 test kit.
This allows the Indianapolis, US-based company to sell and distribute the high-throughput COVID-19 PCR kit in the US and Europe.
Beckman Coulter estimates that this new solution can process around 1,000 PCR samples per workstation in a standard eight hour workday.
David Budd, General Manager of genedrive, said: "We are very excited about Beckman Coulter's partnership in accessing significant COVID testing opportunities in the US and Europe, where the incidence of COVID continues to increase and the need for test solutions remains high Priority.
"The combination of products and know-how from genedrive and Beckman Coulter offers the company a new, innovative and competitive solution as well as a new sales channel for the American market that we did not have before.
"We are very excited to be bringing our first cooperation and development agreement onto the commercial stage. Beckman Coulter is an important and significant company in these core regions that is well suited to promoting, selling and supporting our products. "
:: ::
Manchester-based Camlee Group acted as lead financial advisor to ESP Technologies UK on the sale to Tela Technology at an undisclosed price.
Tela's product offering encompasses a wide range of solutions including wireless, landline, connectivity, unified comms and IT managed services.
ESP specializes in communications consulting and IT systems, as well as infrastructure cabling, company relocations and wireless solutions.
Lee Wojtkiw and Jessica Bradbury from Sale-based Camlee Group advised corporate finance on the transaction. Lee said, "Tela appeared to be a good choice as an acquirer, not only because of the synergies created by the opportunity but also because of the cultural alignment between the two companies."
Benjamin Dredge and James Lock of CG Professional provided legal advice on the transaction and Angela Hilton of Hull Jady advised the financial accountants.
:: ::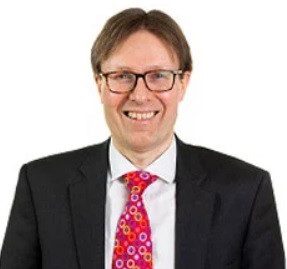 The northwest water company, United Utilities, attracted great demand for its first sustainable bond issue, which was oversubscribed more than three times.
The £ 300 million bond, which matures in October 2029, is issued under the company's Sustainable Finance Framework and supports investments across the Northwest.
Funds will go to projects that improve the resilience of water and wastewater infrastructure, reduce carbon emissions, improve river basins, and support customers struggling to pay their bills.
Phil Aspin, UU's chief finance officer, said, "This new bond attracted a wide range of institutional bond investors. Over 30% has been allocated to investors outside the UK, which offers a wide opportunity to directly support the environmental and social aspects of our business and our business, adding around £ 2bn of environmentally focused investments previously secured by the European Investment Bank.
"Investors really see the importance of using their capital to improve society and the environment. They like our sustainable finance framework and it is fabulous for them to see their money being used so well. "
:: ::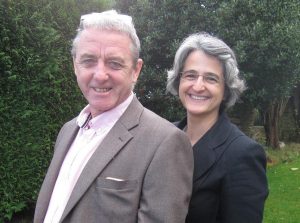 Edge Hill University's Productivity and Innovation Center (PIC) has reached a major milestone after the 100th small and medium-sized enterprise (SMB) completed its scale-up program.
Empty Plates, a West Lancashire catering company, is the 100th SMB to run the PIC's Innovation Sprint program, a scale-up initiative that helps companies become more competitive and strengthen the resilience of their business model .
The Innovation Sprint program, co-financed by the European Regional Development Fund, has been available to SMEs in Lancashire for three years and was recently extended to 2023.
In its second iteration, the program will continue to support SMEs that have the potential to scale with 50 hours of in-depth online workshops conducted by business and academic experts. The new phase will include additional elements of support including productivity, workforce development and technology adoption.
Empty Plates is jointly owned by Gary McDonnell and Anne Lambelin. Anne said, "The Innovation Sprint program has been a great support, eye opener and thought-provoking process to get our new company on track. The program offers constructive criticism from experts to assist you in choosing and tackling your challenges. We now have a plan that will propel our vision into the future. "
:: ::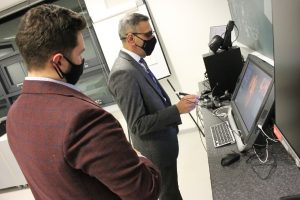 Students at Cheshire College-South & West will unlock their digital superpowers under a new partnership supported by the Cheshire and Warrington local corporate partnership with industrial visualization pioneers Virtalis.
Last month, Virtalis launched an Immersive Design Lab in college with advanced virtual and augmented reality devices, all powered by its virtual reality software Visionary Render. Backed by funding from Cheshire's Local Growth Fund and Warrington Local Enterprise Partnerships, the partnership was formed under a £ 5 million investment program that has identified Cheshire College-South & West as one of the most suitable training providers in the area Providing digital and STEM-related training and education.
Mark Parsons, Assistant Principal, said, "Virtual and Augmented Reality touch our daily work, education and social life. It is already beginning to revolutionize a number of industries from healthcare and retail to engineering, and this method of teaching and learning is becoming more and more effective with the advent of new technologies. I am delighted that our learners continue to benefit from the partnership we have built with Virtalis. "
The new Virtalis equipment will be used by various departments in the college's three campuses in Crewe, Ellesmere Port and Chester and will benefit a wide variety of learners including students in the fields of engineering, construction and the built environment, hospitality and catering, visual arts, Media and games and health and social care.
Robert Boers, CEO of Virtalis, said: "We are proud to partner with Cheshire College, an innovative and leading institute with a strong reputation. It's great to know that students and businesses alike will benefit from this partnership driving Industry 4.0 and immersive engineering. "
:: ::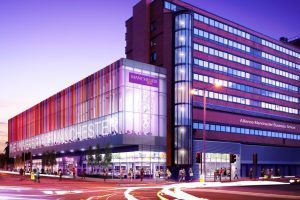 Alliance Manchester Business School is partnering with the National Tax Agency, TaxAid, to provide tax assistance and assistance to low-income residents in the Northwest through the UK's first student-run clinic of its kind.
A team of eight AMBS students receive extensive training to assist qualified tax professionals at the North West Tax Clinic (NWTC) in providing guidance and information to low income residents of the Northwest who are facing a tax problem they are not could solve with HMRC.
From February, the student team will manage a special telephone hotline and collect relevant background information to share with the team of tax professionals. The clinic is open Tuesdays, Wednesdays and Fridays from 10 a.m. to 4 p.m.
Launched in January 2020, the clinic, which offers free, expert and confidential advice on a range of tax issues, is also supported by the University of Central Lancashire (UCLan) and Lancaster University and has already had a positive impact on the Northwest region that has been around since its introduction saved more than £ 15,000 for low-income residents.
Wendy Wild, Lecturer in Accounting at Alliance Manchester Business School, said, "The NWTC is a brilliant initiative and has had a major impact on many people in the Northwest struggling with tax issues. Hence it is a privilege to work with the crew. Our students are committed to making a difference in the local community and it is fantastic that they can support such an important cause. "